People-centric solutions that keep workers safer and more productive
Take a proactive approach to safety and make your workers a priority with scalable solutions you can trust. Drive operational efficiency and access safety insights to make better decisions, at the right time, as you meet occupational health, safety, productivity, and governance requirements.
Real-time, worker-centric solutions
Our solutions are designed to adapt to your specific worker safety needs. We are more than just another app or wearable device. Aware360's patented PeopleIoT™ connected worker ecosystem combines real time data from multiple devices, apps and sensors to deliver a holistic and people-centric safety outcome.
Enterprise-ready
Aware360's best-in-class technology allows its range of solutions to fully adapt to the diverse use cases and needs of any organization. Designed and architected as a scalable and adaptable connected worker platform, it can seamlessly integrate with as many existing and future systems and devices as required.
Proven reliability
When a worker needs assistance, it's critical they trust the reliability of the service, as it can be a life or death situation. Our integrated solutions are fully tested and monitored 24x7, ensuring maximum availability. Our solutions exceed industry uptime requirements with less than one hour of unplanned outage per year. Invest in the safety of your workforce.
Future-proof your business.
Driven by our passion for people, our industry-leading connected worker solutions empower frontline employees, while continuously allowing you to uncover new ways to increase productivity and operate more efficiently.
Be fully equipped to assist employees based on their location, activity, and condition
As your partner, we offer future-proof technology that turns real-time data into business intelligence. Our PeopleIoTTM platform allows you to drive both preventative and proactive worker safety, and put your workers' well-being at the center.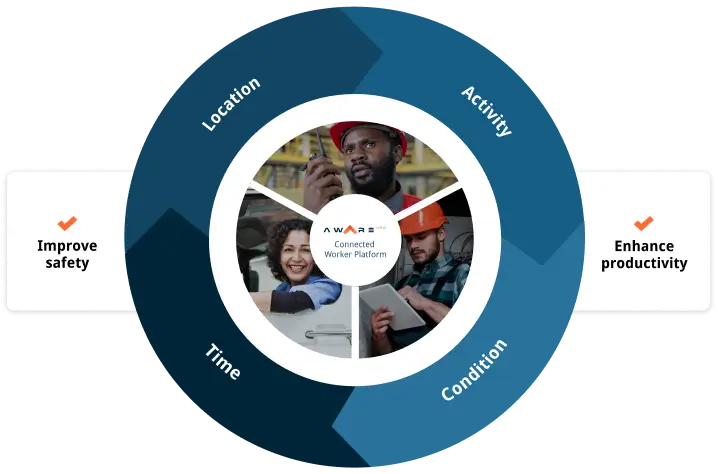 People-centric solutions you can trust
Keep your workers safe through real-time, two-way communication, monitoring and response, wherever their workday takes them.
Drive operational efficiency and access safety insights to make better decisions, at the right time.